Brighton has plenty going on, restaurants, cafes, pubs and bars. It's also got lots to see, whether you're up in the downs, on the seafront, of people watching in the lanes. If you want to combine the two, and enjoy the view with a tasty meal, try out one of the best outdoor restaurants in Brighton!
20. Revolution
Location: 77 West St, Brighton BN1 2RA
We all know Revs for their great cocktails, but did you know, before the sun sets, they sell food too? And it's pretty good. Plus, the Brighton branch has an outdoor terrace with patio heaters, benches and plenty of space. Pick from starters like Cajun Chicken, Vegan Nachos and Seitan Bites, mains like burgers and pizza, or sandwiches, salads and sides. Download the app or go on the website to book a table!
19. Murmur
Location: Kings Road Arches, 91-96, Brighton BN1 2FN
In The Arches on the seafront, Murmur is a seafront restaurant open for lunch and dinner in a brilliant seaside location. Take a seat on their terrace, where kids and dogs are welcome too. Choose from a range of seafood on their menu, like Lobster Croquettes, Pan Roast Chicken Breast or Sticky Toffee Pudding. Book on their website.
18. Riddle & Finns
Location: 65 Kings Rd, Brighton BN1 1NA
With a new seafront location, Riddle & Finns have a large menu with Light Bites and Starters, Crustacea, Main Dishes, Oysters and even vegetarian options! Book on their website to ensure you get a table.
17. Olive Grove
Location: 15-18 Meeting House Ln, Brighton BN1 1HB
Based in the lanes, the Olive Grove has a great outside garden and indoor space for you to enjoy their wine, tapas and steaks in. Choose a meal from their specialist menu of Plant Based Plates, Fish Plates and Meat Plates. Book a table here.
16. Bohemia
Location: 54-55, Meeting House Ln, Brighton BN1 1HB
Bohemia is a Brightonian favourite, with a very, well, bohemian outdoor section. Enjoy their green, comfy restaurant garden with an Oven Baked Camembert, or Thai Green Curry… Better yet, try their famous Fish 'n' Chips. Book a table at Bohemia here.
15. Monjibello
Location: 24 Duke St, Brighton BN1 1AG
Monjibello is a family-run Italian cafe. They offer traditional Sicilian dishes from breakfast pastries, lunch and dinner, as well as Sicilian coffee, wine and cocktails. The menu is extensive, with options from like Nutella Croissants, Lasafne, Calzones and traditional Carbonara.
14. Oh So Social
Location: 250a Kings Rd, Brighton BN1 1NB
Oh So Social is right on the seafront. It is a unique place that serves fresh food, beers, wines and tasty cocktails. Choose from sharing platters, starters, salads, burgers, seafood or the children's menu and enjoy some delicious food by the sea. Book here to ensure a seat.
13. SIX
Location: 102 Western Rd, Hove BN3 1FA
Based in Hove, SIX has lots of seats out the front so you can sit and people watch whilst you eat. Enjoy Korean Pork or Falafel, Calamari, Duck, or Biyani or burgers whilst you take in the bustling Hove scenery. Book a table on their website here.
12. Al Duomo
Location: 7, Pavilion Buildings, Brighton BN1 1EE
Al Duomo claims to be one of the oldest genuine Italian restaurants in Brighton. It is a place for all occasions whether you're going for a romantic meal, a business dinner or a friendly catch up. You can expect a traditional Italian menu with fresh ingredients and excellent flavours. Book a table here!
11. The Mesmerist
Location: 1-3 Prince Albert St, Brighton BN1 1HE
The Mesmerist is set in the twisty lanes by the seafront, The Mesmerist has bar tables and stalls out the back in a little courtyard. Whilst there you can enjoy great meat and veggie options like Jackfruit 'Wings' or Crispy Chicken Strips. Book a table here.
10. Il Bistro
Location: 6 Market St, Brighton BN1 1HH
In the lanes, IL Bistro is a locally owned family steakhouse that specialises in the prime cuts of meat and seafood. You can choose from Sirloin steaks, Ribeye or Filet, or a range of pork, chicken and seafood dishes. Book a table here.
9. The House
Location: 37 East St, Brighton BN1 1HL
The House is an independent steakhouse in The Lanes. It is a British and European restaurant that focuses on quality and tradition in its dishes. Their best seller is their traditional Beef Wellington, but you can pick from pasta dishes, Fish and Chips or a Bouillabaisse. Book a table here.
8. Bedda
Location: 1A Market St, Brighton BN1 1HH
Bedda is a traditional Sicilian restaurant that focuses on the authenticity of flavour and unique recipes. When there, you will get the chance to pick from Pinsa Romana, Street Food and Brunch dishes. Contact them here for bookings.
7. The Salt Room
Location: 106 Kings Rd, Brighton BN1 2FU
The Salt Room has views of Brighton seafront and iconic West Pier ruins and boasts modern British seafood. They offer a seasonal a la carte menu and a unique drinks menu to choose from too. Book a table with them here.
6. Lucky Beach
Location:

Kings Road Arches, 183 Kings Rd, Brighton BN1 1NB
Lucky Beach opened in 2013 and have been named the UK's best beach cafe and favourite sustainable restaurant. Their menu consists of delicious brunches, organic hamburgers, local fish and drinks.
5. Constantinople
Location:

51 Norfolk Square, Brighton BN1 2PA
Any fans of Mediterranean and Middle-Eastern food will love Constantinople. Just along Western Road in the city centre, there are seats both indoors and outdoors. Enjoy your Hummus or Dolma with the chance to people watch. Book a table here.
4. Pinnochio
Location: 22 New Rd, Brighton BN1 1UF
Yes, another Italian restaurant. Located in the North Laines, Pinocchio serves comforting Italian food with a great vegan range and at an affordable price. They have 2 floors of seats and outdoor space, as well as a large menu with cocktails and desserts. Book a table here.
3. The Setting Sun
Location: 1 Windmill St, Brighton BN2 0GN
With brand new owners, The Setting Sun has one of the best views in Brighton. You can see from Hanover to the seafront, all whilst enjoying great food and drink. Choose from burgers, fish, curry or light bites and bask in the brilliant scenery! Call them to arrange a booking on 01273 230778.
2. West Beach Bar and Kitchen
Location: Lower Kings Road, Brighton BN1 2LN
Located next to the i360 makes this outdoor restaurant in Brighton hard to miss. There's plenty of seats up and downstairs, indoors and out. Choose from all sorts of food at any time of day, whether you're after breakfast, a burger, some sides or just a drink. Book a table here.
1. Ye Olde King and Queen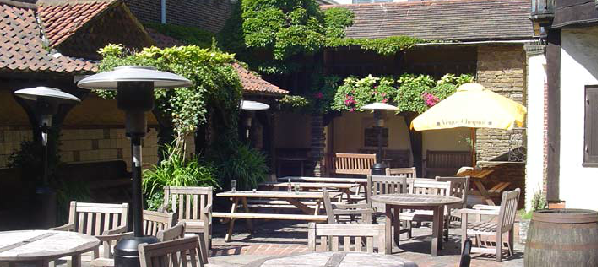 Location: 13-17 Marlborough Pl, Brighton BN1 1UB
This rustic traditional sports pub also doubles up as a restaurant and has one of the nicest beer gardens in the city. Sit outside in a private courtyard and enjoy affordable, traditional pub food with a drink and your friends. What could be better?